Michigan firm creates $40 million agribusiness company with second acquisition
GRAND RAPIDS, Mich. - August 9, 2018 -- Tillerman Seeds LLC, a holding company established last year to offer a liquidity path to owners of independent seed companies across the country, today announced it has completed its second acquisition.
Greenville, Mich.-based Tillerman Seeds said it acquired the assets and real estate of Legacy Seeds, Inc., a Scandinavia, Wis.-based producer of alfalfa, corn, wheat and soybean seeds, as well as cover crops. Legacy also has seed operations in Nampa, Idaho.
The transaction allows Legacy Seeds to buy out the ownership stake of retired founder Steve Jensen and another minority partner, Tyler Lee, while also providing resources for growth at the Wisconsin seed firm. The transaction also allows Legacy Seeds to maintain its heritage, operations — and all jobs — in Wisconsin and Idaho. CEO Bruce Ceranske will remain as an owner and executive leader of Legacy Seeds. Lee will continue to manage the company's operations in Nampa.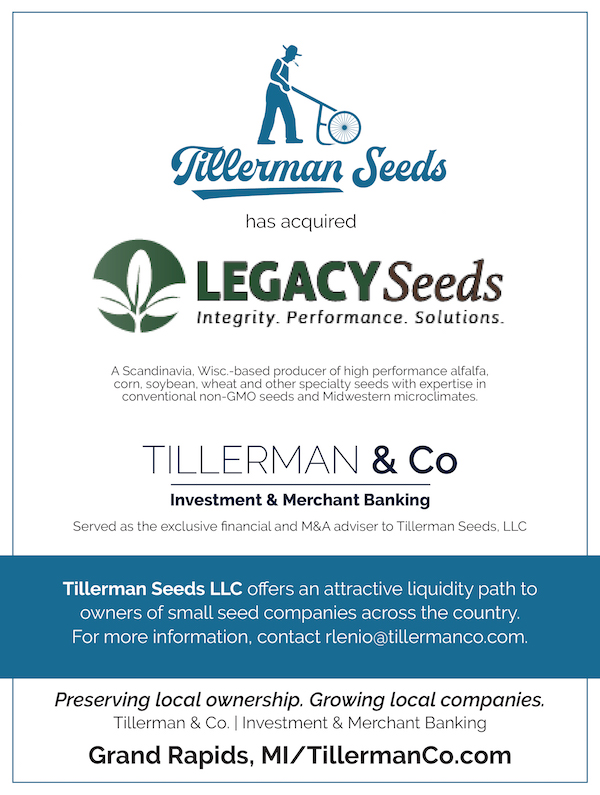 The Legacy Seeds acquisition builds on Tillerman's October 2017 acquisition of Dansville, Mich.-based DF Seeds, LLC, a leading producer of soybean and wheat seeds for Midwestern microclimates. Both companies also sell popular conventional non-GMO seed lines.
Taken together, the two transactions have created a Midwestern seed company with nearly $40 million in annual revenues and 42 employees, proudly supplying more than 800 farms from seed operations in Michigan, Wisconsin and Idaho.
Tillerman Seeds plans to operate the acquired companies as standalone entities with shared back-office services including accounting, human resources and purchasing. Legacy Seeds and DF Seeds will be able to collaborate on research and development as well as best business practices for customer service, marketing and cross-selling of product lines to better serve farmers. The growing seed firm will be led by three agribusiness experts with established industry credentials:
James Sheppard is chief executive officer of Tillerman Seeds, with primary responsibility for sales and interdivisional operations. Sheppard brings four decades of experience in agricultural sales, marketing and operations management to Tillerman Seeds, including executive leadership positions with Harvey Milling Co., Harvey's Agricultural Solutions and United Agra Products. Sheppard holds a BS in crop and soil science from Michigan State University and serves on the board of the Michigan Agribusiness Association.
Bruce Ceranske will continue to lead Legacy Seeds, where he has served as general manager and owner since 2000. Prior to joining Legacy Seeds, Ceranske spent 20 years working for large agricultural companies including Del Monte and Cargill. He has a BS from University of Wisconsin-Stevens Point and served on American Seed Trade Association board.
Chris Varner will continue to lead DF Seeds, where she has worked since 2009 and been an owner since 2013. Varner has worked in the seed industry for more than 25 years, serving in management and operations positions at two Michigan-based seed farms and at Michigan State University. She holds a BS from Michigan State and a master's degree in seed business and technology from Iowa State University. She served as president of the Independent Professional Seed Association in 2017.
"This transaction will bring new opportunities for the customers, employees and suppliers of both Legacy Seeds and DF Seeds," Sheppard said. "These are two strong companies with complementary product lines, similar cultures and a shared laser-like focus on developing seeds that allow farmers in Michigan, Wisconsin, Minnesota and other Midwestern states to maximize yields.
"Bringing them together under the Tillerman Seeds umbrella will allow each company to cross-sell products — including their popular conventional non-GMO seed lines — and work together on research, innovation and customer relationships," Sheppard said.
As part of the transaction, veteran agribusiness executive Kip Pendleton of Minneapolis-based Pendleton Group, LLC will join Tillerman Seeds as executive chairman. Throughout his career, Pendleton has served as a senior executive in AgTech, Precision Ag and Decision Ag companies and participated in multiple merger-and-acquisition transactions in the agriculture industry.
Grand Rapids, Mich.-based Tillerman & Co., which provided structuring, negotiation and capital formation for both transactions, will provide financial management for Tillerman Seeds until a permanent chief financial officer is hired. The Grand Rapids, Mich.-based investment and merchant banking firm has also been engaged to source additional acquisitions of small, independent seed producers to help drive further growth for Tillerman Seeds.
While the $54 billion global seed market is dominated by a handful of large multinational corporations, there are considerable opportunities for small, independent seed producers to supply domestic and foreign farmers, according to Remos Lenio, partner in Tillerman & Co.
"The large multinational companies focus on developing seeds that can be sold nationally and internationally, which leaves plenty of room for local firms that focus on developing seeds for specific microclimates and specific grower needs, including conventional non-GMO seeds," he said. "We intend to acquire local seed firms, especially those with older owners looking to exit the business, so we can continue their heritage and maintain the jobs in the communities where they grew up."
Horizon Bank provided senior debt financing and a revolving credit facility to Tillerman Seeds. Open Prairie Ventures, an Effingham, Ill.-based private equity fund that works with high-growth companies in rural America, provided subordinated debt financing. The Grand Rapids office of Barnes & Thornburg provided legal counsel to Tillerman Seeds on the transaction.
About Tillerman Seeds: Tillerman Seeds, LLC was created to acquire small, regional independent seed companies, especially those with strong conventional non-GMO product lines. Tillerman Seeds is a holding company and plans to operate acquired companies as standalone entities with shared back-office services and collaboration on customer service, research and development, and marketing sales. For more information about products and services, visit http://www.legacyseeds.com or http://www.dfseeds.com. For more information about Tillerman Seeds' M&A strategy, contact This email address is being protected from spambots. You need JavaScript enabled to view it..