GRAND RAPIDS, Mich. - March 21, 2016 - Just five months after launching operations, Tillerman & Co. has completed its first transaction with the acquisition of Jackson Flexible Products, Inc., a Jackson, Mich.-based supplier of custom-formulated rubber parts used primarily in the aerospace industry. Terms were not disclosed.
Grand Rapids, Mich.-based Tillerman & Co. announced it acquired Jackson Flexible Products from its founder, Ronald Jakubas, who started the company in 1969 to supply Aeroquip Corporation, now a division of Eaton Corporation. Jakubas, who plans to retire, met with several strategic buyers that were interested in consolidating Jackson Flexible's operations into their own locations. Instead, Jakubas chose to sell to Tillerman & Co. because they were committed to keeping the company in Jackson.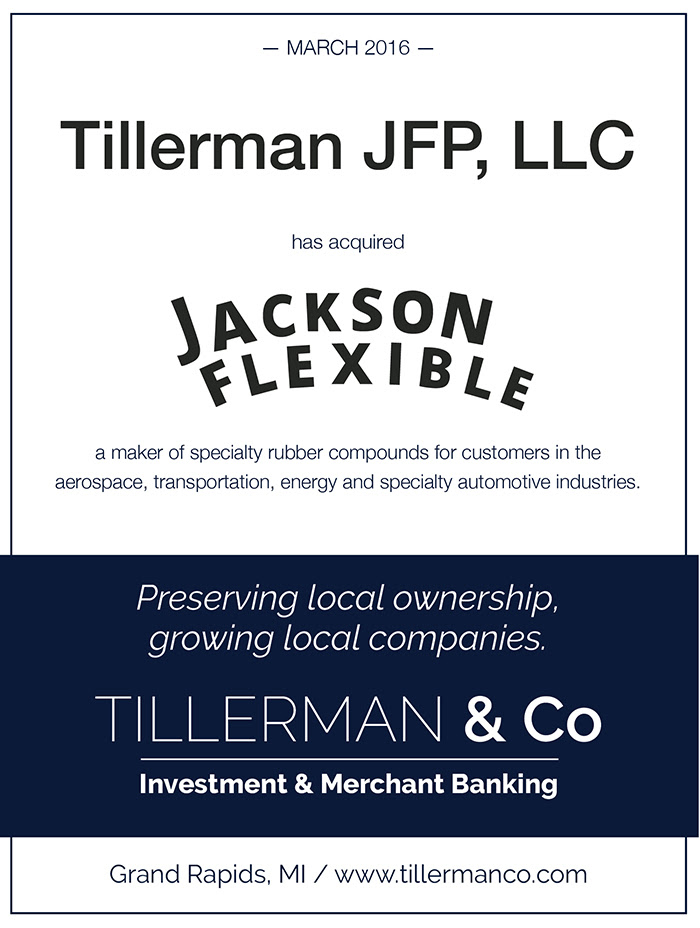 "We are pleased to keep jobs in Michigan and preserve the heritage of this exceptional manufacturing business," said Tillerman Partner Remos Lenio. "For nearly a half-century, Jackson Flexible has been designing specialty compounds and high-performance parts for customers with the most stringent specifications, including FAA-certified applications. We intend to build on that tradition by bringing Jackson Flexible's expertise to new customers in the medical, oil and gas,rail, energy and other industries."
Jackson Flexible supplies more than 3,500 parts to more than 120 customers across a variety of industries. The majority of Jackson Flexible's parts use proprietary formulations that meet the most demanding performance standards for temperature tolerance, flexibility, chemical resistance and appearance.
Tillerman partnered on the transaction with Jackson Flexible's general manager Timothy Dickerson, who will serve as chief executive officer of the company under the new ownership. A chemist, Dickerson also brings 15 years of technical sales experience to his new position. He also served as vice chairman of the American Chemical Society's Rubber Division and serves on the advisory board of Ferris State University's respected Rubber Engineering Technology program. Dickerson is a graduate of Aquinas College in Grand Rapids.
"We are excited to work with Tim and the entire team at Jackson Flexible Products," said Tillerman Partner Philip Blanchard, CFA. "We plan to invest in R&D, new equipment and marketing so we can bring new opportunities for growth to our employees, customers, suppliers and the Jackson community."
Barnes & Thornburg provided legal counsel to Tillerman & Co. on the transaction. Comerica Bank provided financing for the transaction.
"In many ways, this initial transaction epitomizes our acquisition strategy at Tillerman & Co.," Blanchard said. "We plan to find other middle-market and lower-middle market companies that we can help develop and grow, while also preserving the legacy of their founders and keeping the jobs in the Midwest. Our deal with Jackson Flexible is just the beginning."
About Tillerman & Co. Based in Grand Rapids, Mich., Tillerman & Co. provides investment and merchant banking services to middle-market businesses. The firm specializes in closely held and family-owned businesses with merger-and-acquisition advisory, capital sourcing and transaction support. The firm focuses on transactions valued between $3 million and $75 million in the manufacturing,distribution, agribusiness, energy, business services and consumer products sectors. For more information, visit tillermanco.com.